Dinosaur Diamond Scenic Byway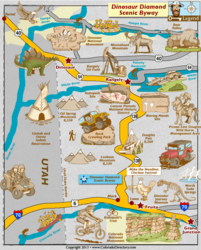 The Dinosaur Diamond Scenic Byway is a 512-mile-long National Scenic Byway in the United States, covering Utah and Colorado. The highway forms a diamond-shaped loop with vertices at Moab, Helper, Vernal, and Grand Junction. Within the Diamond you can get off the beaten path and take a walk or drive and find Indian artifacts from arrow heads to old structures. Along the path you can view Rock Art and Petroglyph along the designated Byway.
The Dinosaur Diamond Prehistoric Highway is a showcase of intrinsic qualities. Its world-class dinosaur, fossil, and archaeological resources, including rock art, are second to none. Its recreational resources alone attract people from all over the globe. The Dinosaur Diamond's natural and scenic resources are so spectacular that two national parks and two national monuments embrace only some of them. The Dinosaur Diamond Prehistoric Highway delivers discovery and exploration at several sites filled with science and history. The two-state Byway combines opportunities to see dinosaur bones being excavated and prepared by paleontologists for museum display. Visit the museums along the Byway that showcase reconstructed skeletons and fleshed-out recreations of dinosaurs found in the area.
The Dinosaur Diamond's most dramatic resources—the dinosaur, fossils, and archaeological sites—are non-renewable treasures that must be protected for everyone for all time. They form the foundation for an ecotourism based management approach that enables rural economic development and the simultaneous protection of these non-renewable resources.

https://townofrangely.colorado.gov/dinosaur-diamond
---